Knitting Project
A few months ago I had a moment of realization during my knitting. I'm always left with scraps of yarn from knitting and crochet projects. So what should I do? Should I throw the leftover strands away after each session and waste expensive, precious wool? That seems a shame when I have spent so much on materials and so much time crafting the project.
Maybe you like me and have a bag of loose pieces from different segments of scarves and jumpers. I looked at this mass of multicolored yarn and realized I needed a use for them. No strand is worthless. Instead, we can use them to create beautiful yarn art. What is yarn art? Any creative, beautiful craft item then you can make.
Turn Your Yarn Into Literal Pieces Of Art
Some people I have come across online take the phrase literally. They create beautiful pieces of art with leftover wool and post their images online. Art is all about mark making with a range of materials to form a beautiful, evocative image. Why not create those lines with yarn and glue the pieces to the card? I must confess that it is a little messy for my taste, but it is a great alternative to college for those with an artistic mind.
Use Smaller Pieces Of Yarn For Smaller Knitting Projects
If you only have, small pieces left then scale down your projects. A great example is to create woolen creatures and flowers. Various creative ideas that I have come across are merely decorative, and there is nothing wrong with that.
There are guides across the net on creating everything from crocheted flower to owls from colorful scraps. These cute items are slightly addictive, once you know how to make them, and can come in many color combinations.
Look Into Creating Some Practical Yarn Items Using These Cute Designs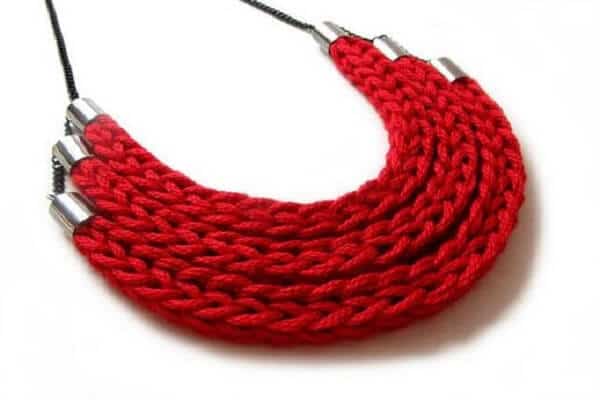 Once you have perfected a signature design, you can use them to create all kinds of pretty, practical items for the home. My personal trademark item now is a penguin (don't ask me why). I am now placing them on hair clips, bookmarks and all kinds of items. Some are for me; others are for friends and family. My next project is to create one with dried herbs inside for a nice scent in a sock drawer. Some people create something similar with catnip for their pets.
Expand Knitting Horizons With Mug And Bottle Cozies
Another practical item that is popular online is the mug cozy. This is a knitted covered to place over a mug to keep it warm and look a bit prettier. This can also work with bottles. A friend of mine suggested going a step further and knitting a little handle to turn them into bags.
This is a great way of carrying the water bottle for a hike. The only problem is I will soon have many on order from friends and family to complete by next summer. Once your nearest and dearest hear about a craft idea you can become swamped with requests.
Did You Remember That You Can Use Yarn To Create Jewellery?

Lots of people I know like to make jewelry as a hobby, or a means of extra income. It is too fiddly for my liking with all that thin wire and those tiny beads. And they think my hobby is too complicated? Yarn art jewelry is the best of both worlds as we create strands of braided yarn into necklaces and bracelets.
They are beautiful to look, crafted with care and also more comfortable than thick, metal bangles. The patterns are only limited to the yarn left over and your imagination.
What Will You Create?
This is just an idea of some of the different types of projects that are out there. The truth is that once you know your way around some yarn and needles, your yarn art opportunities are endless. I have taken the idea of the penguin to new heights by creating fun items and family gifts.
(Penguins are pretty festive right?) Just play around with the yarn you have left, get inspired with cool designs and see where it takes you. In the end, you could find you have as much fun with this new craft as the original knitting project.